Natural Wonders
Gnarled old cedars, limestone outcrops and spectacular views across the Tennessee River to a state migratory bird refuge on the opposite shore are only a few of the many points of interest at Lady's Bluff Small Wild Area. Located in Linden, Tenn., this 2.6-mile trail features beautiful wildflowers in the spring and offers wonderful wildlife watching opportunities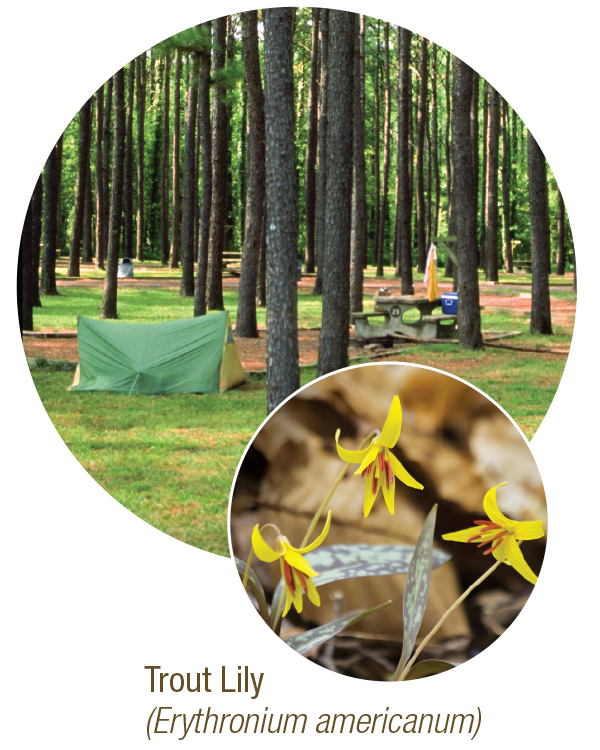 For Your Information
Stop by the recently refurbished visitor center at Kentucky Dam and learn about TVA history and the development of the dam. You can also get a peek into the control room! While you're there, take a walk on the pedestrian trail along the top of the dam and keep an eye out for barges as they pass through the busiest lock east of the Mississippi River.
Fantastic Fishing
The fish biting on Kentucky Lake include largemouth and smallmouth bass, catfish, bluegill and crappie. There are boat ramps above and below the dam for you to put in. If you don't have a boat, enjoy fishing at the pier below the dam.
Happy Camping
Set up camp at the Pickwick Dam Campground located below Pickwick Dam in Hardin County, Tenn. There are 90 sites with electricity and water hookups along with bathhouses, picnic tables and fire pits and grills. If you're looking for a more rustic camping experience, head to the Bruton Branch Recreation Area, a primitive campground and picnic area on the north side of the lake accessible from TN 128 or TN 69 via Pyburns Dr.
Natural Wonders
Explore the great outdoors at the Land Between the Lakes National Recreation Area. There are more than 170,000 acres of forests, wetlands and open spaces on a peninsula between Kentucky and Barkley lakes. From fishing and hiking to wildlife viewing and water sports, there is an activity for everyone at Land Between the Lakes.
Wonderful Water Trails
Take in the scenic beauty of Pickwick Lake by paddle craft! Just north of J.P. Coleman State Park is Cooper Falls—a beautiful 50-foot waterfall that is only accessible by boat. Drift peacefully in the cove and listen to the sound of falling water.
Super Swims
Not far from Kentucky Dam is Kentucky Dam Village. In addition to hiking and fishing, you can also take a break at the swim beach along Kentucky Lake. Relax on the shore or jump in and enjoy the water. While you're there, take advantage of volleyball courts and picnic pavilion.
Fantastic Fishing
Pickwick Landing Lake, located in Hardin County, Tenn., is known for its record smallmouth bass and catfish. In addition to hosting the annual Sauger Fishing Tournament and other area events, the lake is home to an excellent annual July 4th fireworks display.
Historic Highlight
If you're in Hardin County, Tenn., stop by the Shiloh National Military Park and learn about one of the largest battles of the Civil War. In 1862, nearly 110,000 troops fought on these grounds and more than 23,000 lost their lives. In addition to the battlefield and U.S. National Cemetery, there are the Shiloh Indian Mounds, which lie on the site of a Native American village.
Abutting Attraction
Nestled along the Tennessee River in Paris, Tenn., is Paris Landing State Park. There are tons of activities for you to enjoy at the park. Take a hike along the Raptor Ridge Trail or drop a line in Kentucky Lake and reel in a big one at one of the fishing piers. Enjoy a lakeside picnic and a swim at the nearby swim beach.
Blissful Boating
Tailor you good times on one of the smaller lakes in the Beech System—which includes Beech, Cedar, Pin Oak, Pine, Sycamore, Dogwood and Redbud lakes. Enjoy whoo-hoo worthy boating on busy Beech Lake, or escape to one of the smaller lakes to enjoy and enjoy the peace and solitude of solo paddling. Lakes like Redbud and Cedar offer a quieter lake experience that is perfect for folks looking to enjoy nature.