The beautiful waters of northern Alabama were once a menace, due to the infamous Muscle Shoals, which proved hazardous to boaters of all stripes. TVA's dams—Guntersville, Wheeler, Wilson—work to provide safe passage and optimal play, making this area an ideal vacation destination.
Horseback Heaven
The Cooley Cemetery Trail on the Guntersville Reservation is the only trail on TVA land where you can hike, bike and horseback ride. The trail is about six miles one-way and features two old home sites, views of the lake and plenty of bank fishing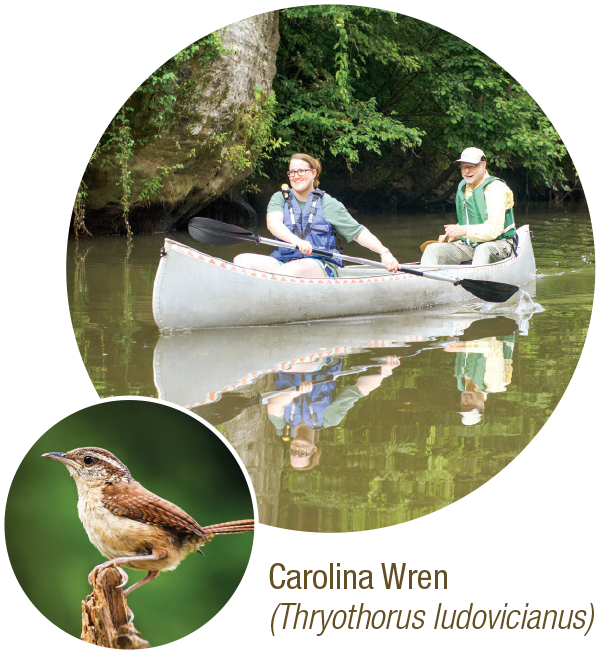 Fun for Families
Just below Wilson Dam in Florence, Ala., is the Rockpile Recreation Area. With hiking trails, a picnic area and a recently added playground, this place has fun for the whole family!
Fantastic Fishing
Guntersville Lake in Guntersville, Ala., is a world-class destination for bass fishing. Don't take our word for it—believe Bassmasters when they say it's among the top ten lakes in the States. Here are professional bass angler Randy Howell's top three fishing holes on Guntersville:
Seibold Creek—This area right off Highway 79 is really a big creek with lots of flats and islands where fish come to spawn.
North Sauty—Right on the edge of Scottsboro, Ala., this bay features a lot of protected areas so you can really get back in there and collect the bass
Lake Guntersville State Park—This is a protected creek with lots of tributaries coming in. Enjoy the beautiful setting while you reel in your haul.
Historic Highlight
Head to Cave Mountain Small Wild Area north of Guntersville, Ala., and explore a cave that was once used to mine saltpeter—a component of gunpowder—during the Civil War. The 1.5-mile loop trail also passes a tupelo gum swamp that provides habitat for waterfowl, dragonflies, frogs and salamanders.
Take a Hike
Looking for a lovely, hand-holding stroll for two? You'll find it at TVA's newly opened Marbut Bend Trail in Limestone, Ala. This easy, flat and A.D.A.-accessible 1.1-mile walk will take you across a boardwalk through a wetland, past a pond created by a beaver dam, along the shoreline of two embayments (or coves) of the Elk River and through an open field filled with hay bales. Take plenty of selfies!
Super Swim
You don't need a boat or a lake house to enjoy a dip at the Bear Creek Dam swim beach! All you need to cool off by the water is your suit, a towel and some sunscreen. Follow New Beach Rd. from US 461 and you'll find white sands and warm waters.
Wonderful Water Trails
The Bear Creek Floatway is a 24-mile float trail popular for canoeing and kayaking. Releases from Upper Bear Creek Lake provide adequate flows on weekends and holidays all summer long. The floatway is considered a Class I course except for two sections at Upper and Lower Factory Falls, which are Class IV and V rapids and require a mandatory portage.
Take a Hike
The Muscle Shoals Reservation in northern Alabama features 17 miles of both paved and primitive hiking trails. The National Recreation Trail connects numerous historical sites such as the Old Railroad Bridge, Waterfall Walk and trails built by the Civilian Conservation Corps, or CCC (another of FDR's "alphabet soup" agencies). This group of trails is also a part of the North Alabama Birding Trail.
Blissful Boating
Though it's lower profile than nearby Guntersville and Pickwick lakes, Wheeler is a premier destination for a day of boating fun. It offers excellent fishing, open waters for skiing and plenty of coves for swimming and exploring—or just drop anchor and while away the day in sunshine against the backdrop of Joe Wheeler State Park.
Wildlife Watching
The area around Wheeler Dam in North Alabama is a great spot for wildlife viewing. Due to its shallow backwater areas, the lake is home to a large waterfowl population including Alabama's largest duck population. While you're in the area, visit the Wheeler National Wildlife Refuge just a few miles upstream from the dam.
For Your Information
Stop by Wilson Dam's visitor center year-round and learn more about the value of public power! These display panels are located on the dam reservation off Reservation Road in Muscle Shoals, Ala.
Natural Wonders
Spring wildflowers, woodland birds, rock steps and dams built by the historic Civilian Conservation Corps are just part of the 25-acre Old First Quarters Small Wild Area managed by TVA. The name "First Quarters" refers to a WWI building complex that housed the U.S. Army Corps of Engineers troops who constructed Wilson Dam.