TVA's dams—especially Norris—have had an undeniable influence on modern architecture. But when the world-renowned architect Le Corbusier visited America in 1946, he was most impressed by TVA's transformation of the Tennessee Valley.
TVA's influence is visible all over the Tennessee Valley, of course. But it's also recognized around the globe—at least by a certain class of professionals. In the 1940s, TVA inspired a daring European innovator who was helping to create modern architecture found inspiration here. His name was Charles-Edouard Jeanneret, but the world knows him as Le Corbusier.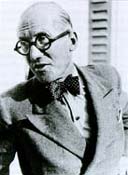 The Swiss-born Le Corbusier—admirers called him Corbu for short—was one of the most famous architects of the 20th century. Wearing his trademark bow tie and thick black-framed glasses, this white-haired genius changed the way a generation thought about architecture and city planning.
In early 1946, having survived the Nazi occupation of France, Le Corbusier came to visit America—to him a fascinating country where innovation and renewal were still possible. His first stop was New York City, where he met Albert Einstein and the industrialist Henry Kaiser.
Gigantic Ideas
But he had another interest farther south. He wrote about it in his influential book "Le Modulor," first published in Paris in 1947, which posited a revolutionary new way to measure architectural spaces on a human scale. When architects from the Valley encounter the book, they're invariably startled by this early passage: "My second visit was to Knoxville to see Mr. Lilienthal, the Director-General of the Tennessee Valley Authority." Le Corbusier called Chairman David Lilienthal "the guiding spirit of that harmonious plan, sponsored by President Roosevelt, which built the dams on the Tennessee River and the new towns, rescued American agriculture and gave it new life."
Le Corbusier had two particular interests related to TVA: the agency's massive use of concrete, which was becoming his own trademark building material, and TVA's experiments with town planning in places like Norris, Tennessee, and the workers' village at Fontana Dam. He discussed both with Lilienthal.
"Our conversation was a friendly one indeed," Le Corbusier reported, "for my golden rule speaks of harmony, and harmony is the aim of all Mr. Lilienthal's work. His face lit up at the delightful thought of establishing a reign of harmony . . . by undertaking the most gigantic works and coordinating the most immense projects: water, motive power, fertilizers, agriculture, transport, industry.
"The end result: a territory as large as France snatched from the grip of erosion, which, with a terrifying speed, was laying waste wide stretches of arable land. Now, victorious life was regaining possession of the salvaged land, performing upon it one of the greatest syntheses of modern organization."
In the introduction to an edition of his book about American architecture, "When Cathedrals Were White," Le Corbusier resumed his praise of TVA with Gallic flair. "Neglect had unloosed catastrophic events in the Valley. Things were going from bad to worse. Nature was taken by the hand and finally her anger was calmed; once again she became maternal. The cyclic flow of water brought about a wonderful regeneration; men found again abundance and the promise of joy. In mastering nature, they felt pride in having created the great dams which are bearers of physical and spiritual splendor."
Inspired by Norris
It's said that Le Corbusier visited Norris Dam, as most VIPs did in the '40s, and that he was awed by its beauty. He had a longstanding affinity for reinforced concrete and had never been reluctant to use it, but after 1946 it became even more prominent in his work. Many of his buildings from the '50s—like the Monastery of La Tourette near Lyon, France, and especially the Youth and Cultural Center at Firminy—seem to be pure concrete, almost dam-like.
In 1951, five years after his trip to the Valley, Le Corbusier embarked on ambitious projects in India, working with the country's famed prime minister Jawaharlal Nehru (who, for the record, had also visited TVA). Some travelers have remarked that the architect's Courts of Justice building in Chandigarh, with its adjacent lake, bears a passing resemblance to Norris Dam.
That same year, coincidentally, David Lilienthal—who'd left TVA a few months after the meeting with Le Corbusier—accepted his friend Nehru's invitation to visit India. The former Chairman noted TVA's obvious impact on projects like the Damodar Valley Corporation. He even met Indian engineers who had trained at TVA.
Whether he ran across Nehru's other associate, the French architect who'd visited Lilienthal in Knoxville in 1946, isn't known. But if they did meet there, on the other side of the world, they probably remarked on TVA's influence, which was already recognizable around the globe.