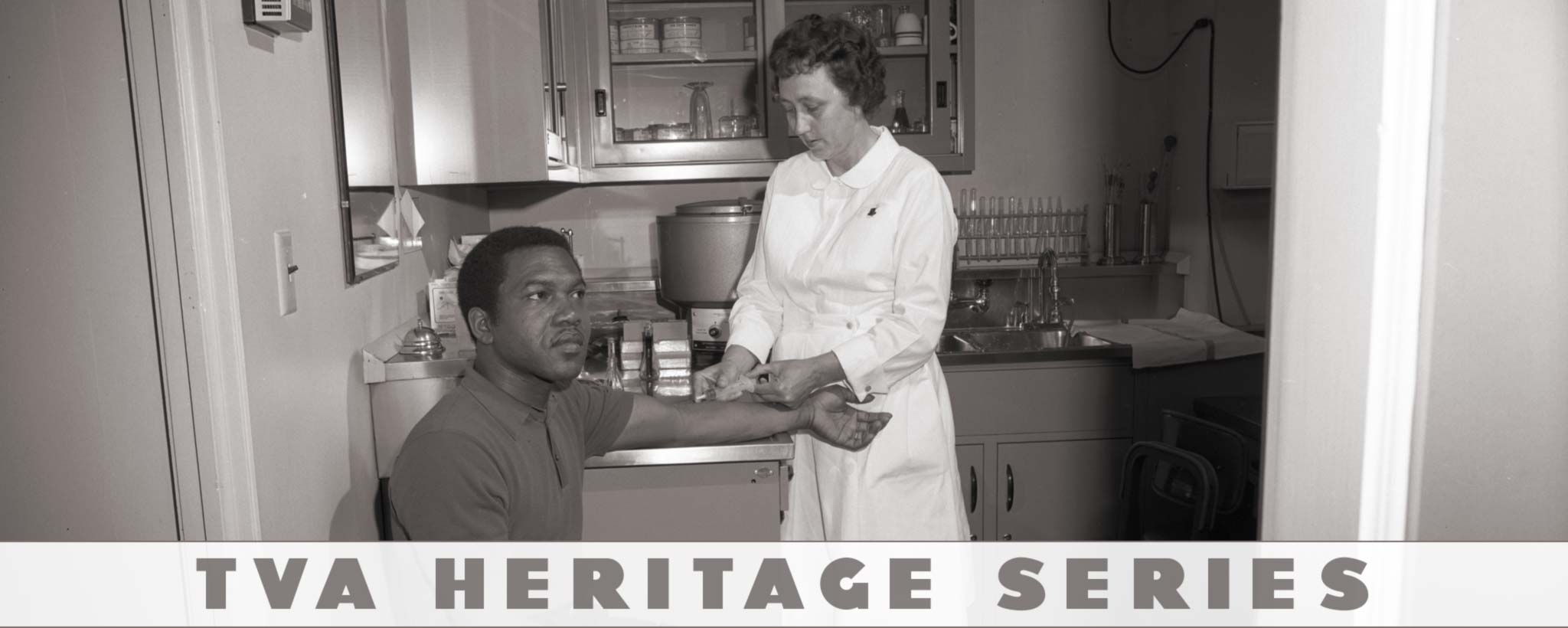 A Shot in the Arm
When TVA set up shop in the 1930s, smallpox and typhoid were still claiming victims in the TVA region. Twenty years and half a million TVA vaccinations later, they had become rarities.
Smallpox—virulently contagious, disfiguring and often fatal—was still afoot in the TVA region. Typhoid brought its victims fever, intestinal ulceration and even death. Annual crops of mosquitoes kept malaria a threat.
Although there was no effective vaccine for malaria, TVA successfully attacked the disease by reducing the region's mosquito population. Vaccines for smallpox and typhoid did exist, but thousands of people across the South had never gotten them.
Typhoid Fever
Because many TVA employees worked near water, which could transmit typhoid, the agency set up a voluntary vaccination program for its personnel. But if you wanted the shots, you had to pay for them; the original plan didn't provide for free inoculations.
In July 1934, outbreaks of typhoid in various parts of the Tennessee Valley region, including Norris, Tenn., and Decatur, Ala., added urgency to the issue. Working with county health departments, TVA urged its employees and their families to have typhoid vaccinations at least once every three years. Then it made a deal with the North Carolina State Health Department, which agreed to provide the vaccine, and TVA employees could get typhoid shots at their work sites.
But there were problems. The vaccine available at the time, primitive by modern standards, called for three injections of varying strength, usually one a week for three weeks. Often people who had the shots came down with fever, aches and nausea. TVA gave the vaccinations on Friday, so temporarily incapacitated workers would have the weekend to recover.
In spite of these difficulties, most TVA employees were happy to get a treatment that protected them from typhoid. But in August 1934, several workers at Wilson Dam refused to be vaccinated. An order went out from headquarters: inform employees about the benefits of the vaccine and the risks of refusing it.
Soon all new TVA employees were required to get typhoid shots. If the physical reaction caused them to lose work time, TVA wanted them to be able to apply for work-related disability compensation.
Deadly Outbreaks
Typhoid wasn't the only concern. Although smallpox, one of the South's biggest killers, had been on the wane for a few years, an epidemic of the disease broke out in April 1938 near Florence, Ala., not far from the TVA fertilizer and hydropower plants at Muscle Shoals. The agency immediately provided its employees and their families with free smallpox shots.
Within days, TVA's health director, Dr. E. L. Bishop, recommended that everyone at the agency be required to get smallpox and typhoid vaccinations. And he went much further than that; non-employees were to have access to the vaccines too.
In October 1938 TVA issued an administrative memo that left no room for interpretation: "It is mandatory for every employee of the Authority to keep himself immune from typhoid fever and smallpox during his period of employment." All TVA personnel would be vaccinated for smallpox every seven years and for typhoid every two to three years. Even the tens of thousands of short-term workers had to have the shots.
As TVA's Pickwick Landing Dam neared completion in Tennessee that same year, M. F. Langston, another TVA physician, explained the public-health implications of the requirement to a medical officer there: "While it is true that a large number of the employees at your project will be transferred or terminated in a short time, yet we believe that their immunization should be encouraged. Immunization against smallpox and typhoid fever will be just as valuable to an individual after he has left the Authority."
Where smallpox was concerned, the decisive action TVA took to protect its workers and the region didn't come a moment too soon. Just three months later the disease broke out again, this time in middle Tennessee.
Shots All Around
Over the years, TVA made adjustments to its policy. From 1934 to 1939, all vaccines given to the agency's employees were administered by licensed medical doctors. The vaccines carried risks, and that seemed the most prudent course. But after problems arose with access to doctors at remote TVA work sites, Bishop decided that the newer, improved vaccines could safely be administered by a "graduate nurse."
The success of the campaigns against typhoid and smallpox encouraged TVA to make other efforts toward improving the health of residents of the region. The agency monitored the regional incidence of diphtheria, considered offering tetanus immunizations, and even provided anti-pneumonia shots to people in Chattanooga.
By 1951, counting its employees, their families and other residents of the Tennessee Valley region who took advantage of the free smallpox and typhoid vaccinations, TVA had inoculated an estimated half-million people in the region against illness. The campaign paid off. In that 18-year period, no TVA facility saw a single case of smallpox or typhoid.
Those deadly and once-common diseases had become rarities in the TVA region, as old-fashioned as flooding and land erosion. TVA's investment in disease prevention had helped produce a regional revolution in public health.