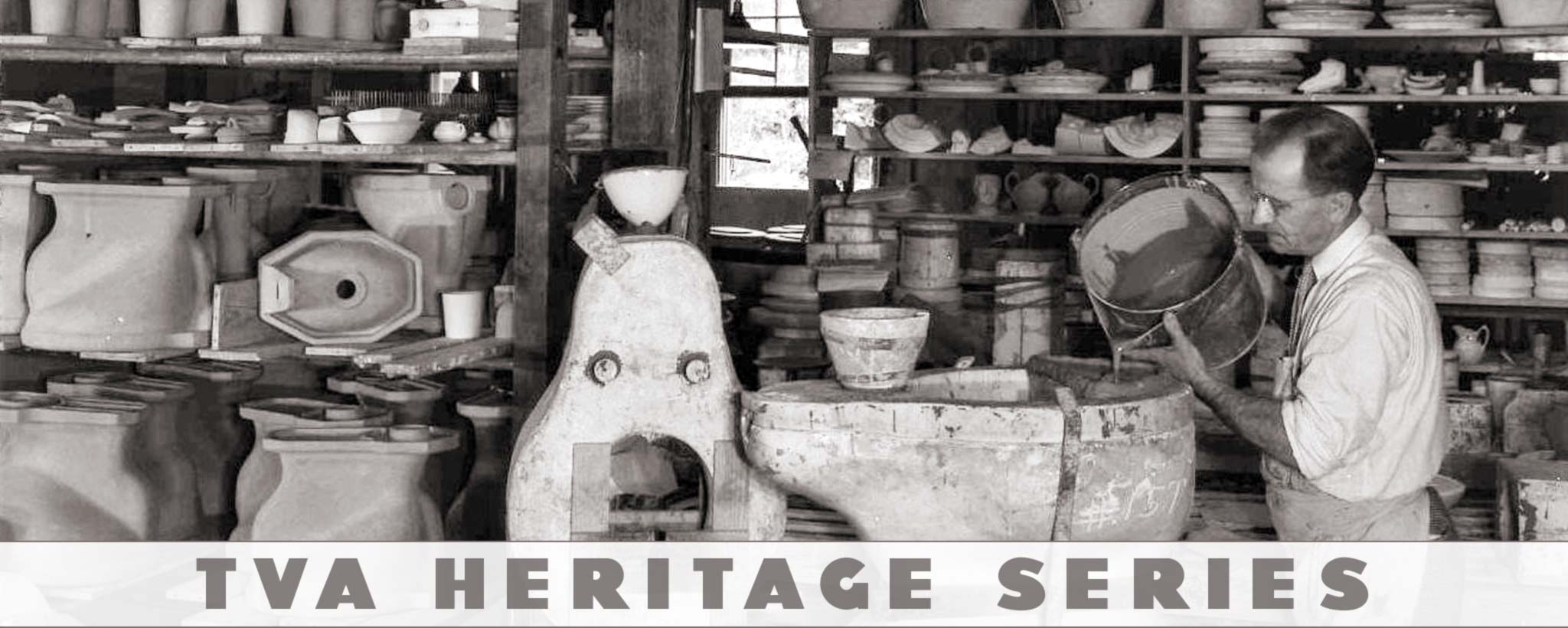 The Great Porcelain Experiment
In the 1930s TVA was prepared to try anything to get the region back on its feet — even turning Tennessee Valley region's clay into fine porcelain.
Pine Road in Norris, Tenn., is a peaceful, shady residential street where the "Slow/Children" sign still bears the silhouette of a running boy in knickers and drivers actually obey the 15-mph speed limit.
But right here among the quiet houses, there's a cluster of unusual-looking industrial buildings. The first one you come to, a tree-shaded edifice set close to the road, looks the oldest. It's built of rough marble blocks, with a stone chimney at one end. Now covered with ivy, the chimney looks as if it hasn't funneled smoke in many years.
Embedded in the wall inside the old building is a peculiar bas-relief, a little sculpture more than a foot square. There are no words on it, just an image of three strong men who appear to be shaping pots and vases. It looks modernistic and artsy, like a study for the cover of an old jazz LP. The date is boldly inscribed: 1935.
It's a relic of an almost forgotten project, the Ceramics Research Laboratory. Unmentioned in most corporate histories, the enterprise was one of TVA's earliest attempts to rebuild the region's economy—in this case literally from the ground up.
Firing Up Industry
There was a lot the Tennessee Valley region didn't have in 1935. It didn't have much money or electricity, and to some people's way of thinking it didn't have much hope either. But one thing it did have was a whole lot of clay.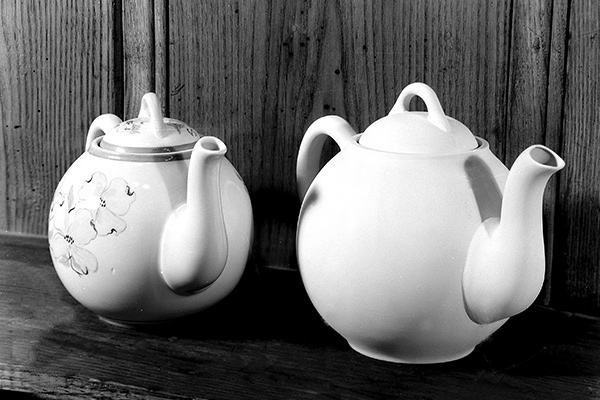 Find a marketable use for that, some figured, and you've got half your problem licked. Maybe that's what was on TVA Chairman Arthur Morgan's mind when he launched a project that he thought would fulfill President Franklin D. Roosevelt's charge: to help the people of the TVA region make the most of their own natural resources.
For many years Americans had regretted the scarcity of a type of white clay called kaolin, formed from decomposed feldspar. Its availability in Asia and Europe accounts for the development of fine porcelain on those continents, and its rarity in this country explains why most porcelain (such as china) is named for faraway places.
But when a resident of Spruce Pine, N.C., mentioned to Morgan that kaolin existed in his part of the TVA region, the TVA Chairman had some of his engineers look into it. The early reports were so promising that Morgan asked Robert Gould, a porcelain expert who'd been working in the Polish ceramics industry, to come to Norris to open up an experimental laboratory.
Strong and Fine Clay
Gould accepted the post of TVA's Chief Ceramics Engineer, and was impressed with what he found. The North Carolina kaolin was strong and malleable and had an excellent color when fired. Cheap electricity, Gould believed, might be the catalyst that could make high-quality porcelain a reality in the Tennessee Valley region.
In cooperation with the Harris Clay Company, Gould began developing new ways to refine the kaolin at the Norris lab. Everything seemed to work. According to TVA documents, the product "combined the thinness, translucency, and beauty of fine china with the durability and strength of hotel ware."
To visitors who thought they were coming to see a dam-building village, the porcelain laboratory was a surprise. Odette Keun, a French author, toured the lab in 1936 and found it "delightful." She left convinced that TVA's experiments would lead to the opening of "an entirely untouched field of manufacture" in the region.
It didn't exactly turn out that way. Having demonstrated that porcelain could be made from American kaolin fired in electrically heated kilns, TVA announced in 1938 that "the primary objectives were approaching completion, and further operation [of the lab] was unwarranted." That this decision closely followed the dismissal of Chairman Morgan, the lab's chief supporter, may have been no coincidence.
A Legacy in Pottery
TVA's claims that a porcelain industry could thrive in the TVA region were never disproved. In the years since work at the Norris laboratory stopped, there have been scattered regional successes in ceramics. Some of them, Arthur Morgan thought, almost certainly benefited from TVA's research.
One undoubted success story was that of Douglas Ferguson, who had worked at the Ceramics Research Laboratory and married the daughter of potter Ernest Wilson. In 1946 the Fergusons opened the Pigeon Forge Pottery, a studio and shop in Pigeon Forge, Tenn., near the Great Smoky Mountains.
It was one of the first tourist attractions in the now-booming resort town, and until it closed in 2000 one of the most popular. Ferguson's work achieved a national reputation and was notable, according to one ceramics dealer, for "the exquisite texture of its fine clay and the richness of its multicolored glazes."
Today several pieces of Norris porcelain are in the TVA Historic Collection at the corporate headquarters in Knoxville, Tenn., and they attest to the fine quality of the lab's small output. One is a delicate white teapot with a depiction of Norris Dam on its side. Another is a pair of shiny white bookends, each decorated with a muscular Atlas-like figure holding aloft a glowing light and a generator — a design proposed (but rejected) as an adornment for TVA dams.